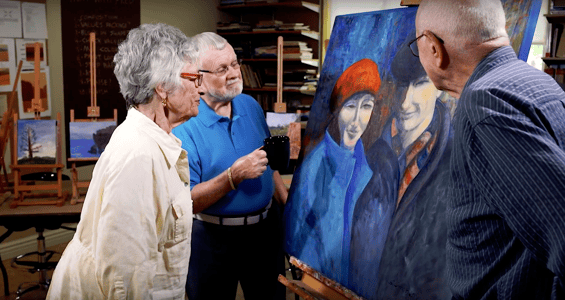 If you are the creative type or enjoy the visual arts, you will be right at home at the Admiral.
Our hallways come alive with artwork created by residents, known Chicago artists and local art therapy organizations. Our Art Committee is responsible for several components: art workshops, exhibitions, receptions and speakers.
About the Creative Arts Studio
The Admiral at the Lake is fortunate to house a cozy art studio for individual use and group workshops. In the Creative Arts Studio, some residents lead workshops- oil painting, surface design and fun holiday-related art such as Valentines for Valentine's Day.
The studio comfortably accommodates 16, but for an activity such as our popular coloring book parties, 20 to 25 is workable. The room is open 24/7 and solely dedicated to art activities. Lockers are available for personal equipment, but a wide range of art supplies is available and free to all.
Residents, their family members and staff members are welcome to enjoy the Creative Arts Studio. Grandparents have been known to entertain their grandchildren in the art studio.
How are art classes and workshops planned and executed?
The classes are based on the capabilities of resident instructors and the wants and interests of the community. If there are a lot of sign-ups for a particular medium of art, the committee will make sure to provide more classes on that topic. Individual committee members are responsible for much of the programming. One resident hosts drop-in art workshops most Thursdays, with other residents organizing model-drawing and oil painting, amongst other things.
When is the resident's artwork displayed?
Art is always on view throughout the Admiral. An art collection from the "old Admiral" has been vetted and installed throughout the public areas. And the Admiral, unlike many communities, encourages our residents to personalize the immediate space around their entry with art of their choosing.
The Hall Gallery hosts new exhibits bi-monthly with a wine and cheese reception for residents and the artists.
Our gallery exhibits range from resident art exhibits, both solo shows and group exhibits, to Chicago artists and local art therapy organizations. Residents and committee members refer artists for consideration.
The art committee also hosts presentations by artists and art speakers (ARTspeak) and arranges pop-up art projects that appear in the dining area lockers (Art Inside the Box).
How can a resident/staff member join the committee?
Anyone is welcome to join or get involved in the committee. Residents are often attracted to the committee through the workshops and then may go on to suggest an artist for the gallery, or even display their own work.